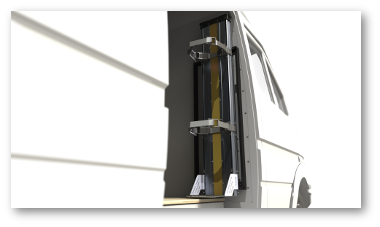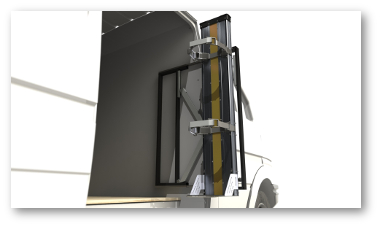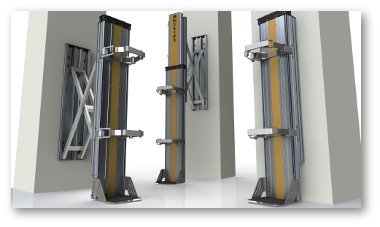 The ArtLIFT FLC system solves the problem of loading or unloading Cylinders that are too heavy for human lifting capacity.
Actuall is a company specialized in creating solutions for the transport branche and has now created an innovatic loading assistant for commercial vehicles, ambulances and fire trucks.
ArtLIFT FLC allows the driver to lift cylinders up to 90Kg in or out of the vehicle. Permanent lifting of heavy goods can lead to severe back pain. The ArtLIFT FLC therefore can easily load or unload heavy items and ensures that the driver can work safely with no future injuries.
The only 60 Kg lift can be installed within in a few hours from your dealer or the manufacturer. The cost effective system works on the 'Plug-and-play' principle. The mounting points are vehicle specifically indicated, the exact vehicle and the desired dimensions are specified in the order.
The compact style of the ArtLIFT FLC makes the lifting height of ca. 68.5 cm possible, both on the side or the back of the vehicle.
The ArtLIFT FLC has been designed to secure all standard cylinder sizes. Models are available to accommodate nearly any lifting stroke.
The ideal solution for the demanding carrier.
In daily work with vans situations often occur where one must lift heavy loads. Sooner or later, this can lead to serious back problems and even partial disability.
The ArtLift ELC is a lightweight, compact lifting aid that allows for simple and easy installation in various types of ambulances, fire trucks or specialized trucks.
It is economically priced and enables drivers to lift loads of up to 90 kg.
The perfect loading assistant for fire trucks, ambulances and specialized vehicles
Your benefits in a nutshell.
Light weight, minimal space reduction, ergonomic handling
Reliable, clean, quiet
Compact design and mounting
Installation choice side or rear of the vehicle
Simple easy to operate
Improved driver comfort and efficiency
Excellent value for money