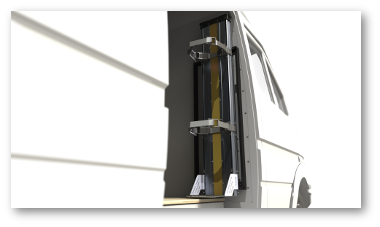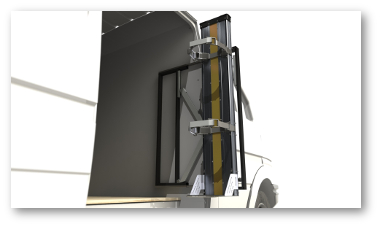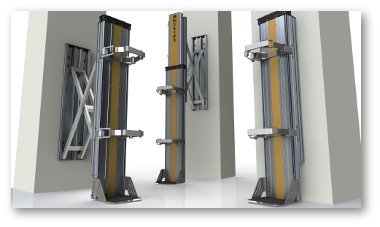 The ArtLIFT FLC system solves the problem of loading or unloading Cylinders that are too heavy for human lifting capacity.
Actuall is a company specialized in creating solutions for the transport branche and has now created an innovatic loading assistant for commercial vehicles, ambulances and fire trucks.
ArtLIFT FLC allows the driver to lift cylinders up to 90Kg in or out of the vehicle. Permanent lifting of heavy goods can lead to severe back pain. The ArtLIFT FLC therefore can easily load or unload heavy items and ensures that the driver can work safely with no future injuries.
The only 60 Kg lift can be installed within in a few hours from your dealer or the manufacturer. The cost effective system works on the 'Plug-and-play' principle. The mounting points are vehicle specifically indicated, the exact vehicle and the desired dimensions are specified in the order.
The compact style of the ArtLIFT FLC makes the lifting height of ca. 68.5 cm possible, both on the side or the back of the vehicle.
The ArtLIFT FLC has been designed to secure all standard cylinder sizes. Models are available to accommodate nearly any lifting stroke.
Die ideale Lösung für anspruchsvolle Unternehmer.
Bei der täglichen Arbeit mit Transportern und Kofferfahrzeugen kommt es ständig zu Situationen, in denen Sie schwere Ladung heben müssen. Früher oder später kann diese Belastung zu Bandscheibenschäden und damit zu Arbeitsausfall führen.
Der Art-Lift ist ein leichter und kompakter Ladelift, der sich problemlos und einfach an die unterschiedlichsten Fahrzeuge anpassen lässt.
Er wurde speziell auf ein möglichst geringes Eigengewicht und niedrige Kosten entwickelt. Mit dieser ergonomischen Lösung, ist es einem einzelnen Fahrer möglich, Ladungen bis zu 200 kg selbst zu verladen.
Die perfekte Ladehilfe für die Citylogistik, den Handel und das Handwerk
Ihre Vorteile auf einen Blick
Geringes Gewicht, wenig Platzbedarf, ergonomische Handhabung
Zuverlässig, sauber, leise
Kompakte Bauweise, innen liegende Montage
Einsatz der Ladehilfe sowohl bei Seiten- und Hecktüren
Ermüdungsfreies, entlastendes Arbeiten
Verbessert den Komfort und die Effizienz des Fahrers
Hervorragendes Preis- Leistungsverhältnis