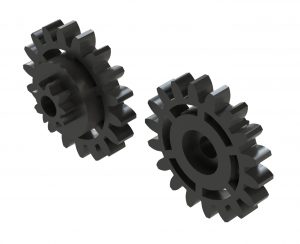 From the 1st of March 2017, we released our improved gear wheels for our DoorLIFT motor-units from ABS to coated sinter steel. This wheel has been tested for 1 year in the field in harsh environment and is an improvement to have more stability in the gear construction of the motor-unit.
This 18-tooth wheel will be integrated in all new delivered motor-units from now on.
The new sinter steel wheel will also be available as a spare part package (2 pieces) to replace and/or exchange the old version.